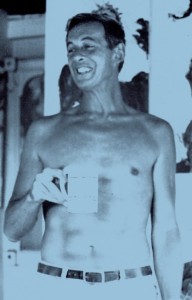 Nanno de Groot
(1913-1963)
Born: March 23, 1913 in Balkbrug, Holland
To USA 1941
USA Citizen 1954
Died: December 26, 1963 in Provincetown, MA
Military Service in World War II
1941: Dutch Navy; 1942-1946: Lieutenant Commander in charge of the Dutch Port Authority in San Francisco
Selected solo exhibitions
1952: Saidenberg Gallery, New York;
1954, 55: Bertha Schaefer Gallery, NYC;
1956, 59, 60, 61, 64 (memorial): HCE Gallery, Provincetown, MA;
1957, 58, 59, 61: Parma Gallery, NY;
1960: October, Stamford Museum & Nature Center, Stamford, Connecticut;
1971: Jack Gregory Gallery, Provincetown, Massachusetts;
1982: Retrospective Exhibition, Provincetown Art Association and Museum, Provincetown, Massachusetts;
1987–2003: Julie Heller Gallery, Provincetown, MA.
2004: Nanno de Groot: The New York Years, ACME Fine Art, Boston MA
2007: Nanno de Groot: Earth Sea and Sky at ACME Fine Art, Boston, MA
Selected group exhibitions
1953 Saidenberg Gallery, NYC;
1953 Hansa Gallery, NYC;
1954, 55: Tanager Gallery, NYC;
1954, 55, 56, 57: New York Painting and Sculpture Annuals at the Stable Gallery, NYC;
1962, 63: HCE Provincetown, Massachusetts;
1953–1964: Provincetown Art Association and Museum, Provincetown, MA
1982: Everson Museum Provincetown Painters, principal collections;
1994: Re¬claim¬ing Artists of the New York School. Toward a More Inclusive View of the 1950s, Baruch College, City University, NY; New York-Provincetown: A 50's Connection, Provincetown Art Association and Museum, Provincetown, Massachusetts; Anita Shapolsky Gallery, NYC;
1987–2003: Julie Heller Gallery, Provincetown, Massachusetts
2003: The New York School, ACME Fine Art, Boston, MA, Provincetown Painters, ACME Fine Art, Boston, MA; Summer Salon, ACME Fine Art, Boston MA;
2004: Beyond Likeness, ACME Fine Art, Boston, MA; Summer Salon, ACME Fine Art, Boston, MA; Reuniting an Era: Abstract Expressionists of the 1950s, Rockford Art Museum, Rockford, IL.
Works in Museums and Public Collections
Hirshhorn Museum and Sculpture Garden, Washington D.C.
Museum of Fine Arts, Boston, Massachusetts
Chrysler Museum of Art, Provincetown, Massachusetts
Hebrew University, Jerusalem, Israel
Provincetown Art Association and Museum, Provincetown, Massachusetts
Olson Institute, Guilford, Connecticut
Kresge Art Museum, Michigan State University, East Lansing, Michigan
Artist Statement
As a child I didn't want to be anything. I later learned that small boys want to become engine drivers, soldiers, firemen, cowboys; but such aspirations were alien to me. I did not, however, actively want to be nothing when I grew up. The whole thing merely never occurred to me at all. People were, a house was, the canal was, the bridge was, the sky was and I was. Not becoming, not having been—anything, or something else.
In moments of clarity of thought I can sustain the idea that everything on earth is nature, including that which springs forth from a man's mind, and hand. A Franz Kline is nature as much as a zinnia. Once that idea is thought it becomes clouded by the idea that this would include a paper-flower or a plaster Jesus.
I have now painted nearly 30 vases full of flowers and am still discovering many things. It is strange how completely abstract a completely true to nature painting becomes. It is probably that one is so little used to looking closely enough at the color of things that is has escaped one that a red flower, for instance, has about a dozen colors haphazardly put together—one next to the other. Every red flower (of the same red) has different reds in it and they are distributed differently and very crudely. Painted that way, reality is approached much more closely that trying to imitate the subtleties a flower contains. Those subtleties are there in the end, wonder of wonders, in the painting, and even the delicacies of texture.
Biography
Nanno De Groot was one of the formative but rarely seen artists of the great era of Abstract Expressionism in Provincetown. De Groot was one of many avant-garde artists who congregated seasonally in the lower cape art colony. They were largely drawn by cheap rent, great scenery and the school of Hans Hofmann. There was also subsidy through the GI Bill in the post war era of the late 1940's and early 1950's. A focal point of this activity was Forum 49, a series of lectures and exhibitions during the summer of 1949 organized by Weldon Kees and others that debated the new art. Fellow artists were Peter Busa, Fritz Bultman, Jack Tworkov and artists of the older generation like Karl Knaths, Blanche Lazzell and Edwin Dickinson.
While some aspects of De Groot's work are generic to the ideas of the time, he was a uniquely strong and gifted painter. There is wonderful facility and angst in his mark-making. In his early work the nervous black lines suggest forms or figures that make one think of European Post War artists like Dubuffet and Giacometti. The works are gestural and confined in palette and all are compelling enough to command respect and further study.
Some catalogue notes establish that he was born in 1913 in Holland, served in its Navy during the war and applied for US citizenship while stationed in San Francisco in 1946. He started to make art in 1948 and hit his stride in 1950-52 when he lived in New York City. He showed in 1953 with the seminal Hansa Gallery and in 1954 with Tanager and Bertha Schaefer. In 1956 he rented Fritz Bultman's studio in Provincetown where he moved in 1962. While in the process of building a house on Commercial Street overlooking the water he died at the age of 50 in 1963.