RAY PARKER (1922-1990)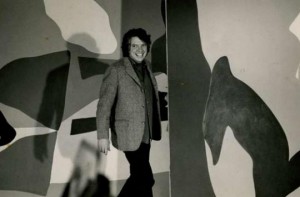 Born: August 22, 1922, Beresford, South Dakota
Died: April 14, 1990, New York, New York
Education: BA, 1946 University of Iowa; MFA, 1948, University of Iowa
TEACHING

1946-48- Graduate Assistant, State University of Iowa
1948-51- Instructor of Painting and Design, University of Minnesota
1953- Visiting Artist, Academy of Art, Memphis, TN
1955-90- Professor of Art, Hunter College, New York
1959- Guest Artist, University of Southern California, Los Angeles, CA
1970-71- Guest Critic, Columbia University School of Arts, New York
1974- Guest Critic, Bennington College, Bennington, VT
SOLO EXHIBITIONS
1949- Rochester Art Center, Rochester
1950- Walker Art Center, Minneapolis
1953- Paul Kantor Gallery, Los Angeles
Memphis Academy of Art, Memphis
1954- Louisville Art Center, Louisville, KY
1955- Union College Gallery, Scenectedy, NY
1956- Paul Kantor Gallery, Los Angeles
1957- Martin Widdifield Gallery, New York
1959- University of Southern California, Los Angeles
1960- Galerie Lawrence, Paris
Galerie Neufville, Paris
Kootz Gallery, New York, also: 1961, 1962, 1963, 1966
1961- Galleriea dell'ariete, Milan
Bennington College, Bennington, VT
Dwan Gallery, Los Angeles, also 1962
The Solomon R. Guggenheim Museum, New York
1965- Dayton Art Institute, Dayton, OH
1966- Gertrude Kasle Gallery, Detroit, also 1970
Washington Gallery of Modern Art, Washington, DC
1967- San Francisco Museum of Art, San Francisco
University Art Museum, University of New Mexico, Albuquerque
1970- Molly Barnes Gallery, Los Angeles
Fischbach Gallery, New York, also: 1973, 1974
Quay Gallery, San Francisco, also 1972, 1974
1971- School of Visual Arts, New York
1974- Berenson Gallery, Miami
Elaine Benson Gallery, Bridgehampton, also 1980
David Berger Gallery, Pittsburgh
Portland Center for the Visual Arts, Portland, OR
1975- American University, Washington, DC
1976- Susan Caldwell Gallery, New York, also: 1977, 1980
1977- University of Maryland, College Park, MD
University of Texas, Austin
1978- The Billiard Room Gallery, Cambridge
1979- Betty Cunningham, New York, also 1980
Phillips Collection, Washington, DC
1980- Gloria Luria Gallery, Bay Harbor Islands, FL, also 1986
Joe Grippi Gallery, New York
1981- College of Cortland, State University of New York, Fine Arts Center, Cortland
1983- Carl Solway Gallery, Cincinnati
1986- The Butler Institute of American Art, Youngstown
1990- The Bertha and Karl Leubsdorf Art Gallery, Hunter College, New York
1993- Galleria Peccolo, Livorno
1994- Galleria Milano, Milan
1997- Washburn Gallery, New York, also: 1999, 2000, 2004, 2007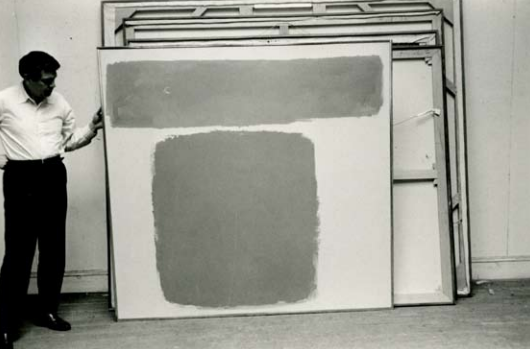 GROUP EXHIBITIONS
1949- "Second Biennial Exhibition," Walker Art Center, Minneapolis, MN
1950- "New Talent Exhibition," The Museum of Modern Art, New York
"Annual Exhibition of Contemporary Painting," The Whitney Museum of
American Art, New York
"American Painting Today," The Metropolitan Museum of Art, New York
1951- Allen Memorial Art Museum, Oberlin College, Oberlin, OH
1952- "Annual Exhibition of Contemporary Painting," The Whitney Museum of
American Art, New York
1954-56- "Stable Annual," Stable Gallery, New York
1956- "Vanguard 1956," Walker Art Center, Minneapolis, MN
Poindexter Gallery, New York
1957- "American Painting Exhibition," Minneapolis Institute of Art, Minneapolis, MN
1957-58- "International Exhibition of Painting," traveled throughout Japan (U.S. representatives
selected by The Museum of Modern Art)
1958- "Annual Exhibition of Contemporary Painting," The Whitney Museum of American
Art, New York
1960- "60 American Painters," Walker Art Center, Minneapolis, MN
1961- "Abstract Expressionists and Imagists," The Solomon R. Guggenheim Museum, New York
"Recent Painting and Sculpture," The Museum of Modern Art, New York
(traveled in the United States October 1961 to June 1963)
1962- "Art Since 1950," Seattle World's Fair, Seattle, WA
The Gifford and Joann Phillips Collection, UCLA Art Galleries, Los Angeles, CA
1962-63- Biennial, Corcoran Gallery of Art, Washington, D.C.
"Three Former Iowans," Des Moines Arts Center, Des Moines, IA
"Biennial," University of Illinois, Urbana, IL
1963- "Toward a New Abstraction," The Jewish Museum, New York
Corcoran Gallery of Art Biennial, Washington, D.C.
"Black and White," The Jewish Museum, New York
"Annual Exhibition of Contemporary Painting," The Whitney Museum of American Art,
New York
1963- "New Directions in American Painting," Rose Art Museum, Brandeis University,
Waltham, MA
1964- "Carnegie International," Carnegie Institute, Pittsburgh, PA
"Post Painterly Abstraction," Los Angeles County Museum of Art, Los Angeles, CA
Other venues: Walker Art Center, Minneapolis, MN
Art Gallery of Toronto, Toronto, Canada
"67th Annual Exhibition of American Painting," Art Institute of Chicago, Chicago, IL
"American Art Since 1950," Brandeis University, Waltham, MA
"Painting of a Decade 1956-64," The Tate Gallery, London, England
"Black, White and Gray," Wadsworth Athenaeum, Hartford, CT
"Selections from the Guggenheim Museum," Italian Pavilion, Venice Biennial
1965- "Carnegie International," Carnegie Institute, Pittsburgh, PA
"Annual Exhibition of Contemporary Painting," The Whitney Museum of American Art,
New York
1968- "The Art of the Real: USA 1948-1968," The Museum of Modern Art, New York
Other venues: Grand Palais, Paris, France; Kunsthaller, Zurich, Switzerland;
The Tate Gallery, London, England
1969-70- "Annual Exhibition of Contemporary Painting," The Whitney Museum of American Art,
New York
1971- "Young Artists of the '50's," The Museum of Modern Art, New York
1972- "Color Forum," University of Texas, Austin, TX
"Annual Exhibition of Contemporary Painting," The Whitney Museum of American Art,
New York
1973- "The Biennial Exhibition of American Art," The Whitney Museum of American Art,
New York
1975-77- "American Art Since 1945," from the collection of The Museum of Modern Art
Other venues: Worcester Art Museum, Worcester, MA; Toledo Museum of Art,
Toledo, OH; Denver Art Museum, Denver, CO; Fine Arts Gallery of San Diego,
San Diego, CA; Dallas Museum of Fine Arts, Dallas, TX; Joslyn Art Museum,
Omaha, NE; Greenville County Museum, Greenville, SC; Virginia Museum of
Fine Arts, Richmond, VA
"Three Former Iowans," Museum of Art, University of Iowa, Iowa City, IA
"Color as Language," sponsored by the International Council of The Museum of Modern
Art; Other venues: Museo de Arte Moderna, Bogota, Colombia; Museo de
Arte de Sao Paulo, Brazil; Museo de Arte Moderna, Rio de Janeiro, Brazil;
Museo de Bellas Artes, Caracas, Venezuela; Museo de Arte Moderno, Mexico
City, Mexico
1976- "Abstract Expressionists and Imagists: A Retrospective View," The University of
Texas, Austin, TX
"Drawing Today in New York," sponsored by Rice University, Houston, TX
"Artists and East Hampton, A 100-Year Perspective," Guild Hall, East Hampton
1977- "New in the '70's," University Art Museum, Austin, TX
"A Miscellany of the 1960s," Susan Caldwell Gallery, New York
1978- "New York, The State of Art, The New York School," State Museum, Albany
1979- "Art in America After World War II," The Solomon R. Guggenheim Museum, New York
1984- "Artists at Hunter 1950-1965," Hunter College Art Galleries, New York
"Then and Now," Elaine Benson Gallery, Bridgehampton
1986- "After Matisse," The Queens Museum, Flushing
Other venues: Chrysler Museum, Norfolk, VA; Portland Museum of Art,
Portland, OR; Bass Museum of Art, Miami Beach, FL; The Phillips
Collection, Washington, D.C.; Dayton Art Institute, Dayton, OH;
Worcester Art Museum, Worcester, MA
1987- "39th Annual Purchase Exhibition," American Academy and Institute of Arts and Letters,
New York
1989- "Abstract Expressions: Painting and Sculpture of the 1950's and 1960's," Vanderwoude
Tananbaum Gallery, New York
"Three-Man Exhibition with Dan Christensen and Robert Goodnough," Gloria Luria
Gallery, Bay Harbor Islands, FL
"Before the Field – Paintings from the Sixties," Daniel Newburg Gallery, New York
SELECTED BIBLIOGRAPHY
Statements by the Artist
"Student, Teacher, Artist," College Art Journal, Vol. 8, Fall, 1953, p. 27
"Direct Painting," It Is, Spring, 1958, p. 20
"Intent Painting," It Is, Autumn, 1958, pp. 8-9
"Is there a New Academy?" Art News, Vol. 58/6, September 1959, p. 38
Catalogue of American Collection, The Tate Gallery, London, England, 1978
Books

Robert Motherwell and Ad Reinhardt, Modern Artists in America, No. 1. Wittenborn &
Schultz, New York, 1950.
"American Abstract Artists," editors. The World of Abstract Art, George Wittenborn,
New York, 1957.
Bernard Friedman, editor. School of New York. Grove Press, New York, 1959.
Barbara Rose. American Art Since 1900, A Critical History. Praeger, New York, 1967.
Irving Sandler. The Triumph of American Painting: A History of Abstract Expressionism.
Praeger, New York, 1970.
Irving Sandler. The New York School. Harper & Row, New York, 1978.
Mary Fuller McChesney. A Period of Exploration: San Francisco 1945-1950.
Oakland Museum, Oakland, California, 1973.
Periodicals

"Exhibition at Widdifield Gallery," Art News, Vol. 56, November, 1957, p. 56.
J. Schuyler, "New Untitled Oils at Widdifield," Art News, Vol. 58, March, 1959, p. 10.
H. H. Arnason and Herbert Read, "Dialogue on Modern U.S. Painting," Art News, Vol. 59/3,
May, 190, pp. 32-36.
William Rubin, "Younger American Painters," Art International, Vol. 4, January, 1960, p. 30.
Irving Sandler, "New York Letter," Art International, Vol. 4, January, 1960, p. 30.
"Ray Parker," Art News, Vol. 60, April, 191, p. 46.
G. Schoenenberger, "Expositions A Milan: Raymond Parker," Art International, Vol. 5,
August, 1961, pp. 77-78.
"Solomon R. Guggenheim Museum: American Abstract Expressionists and Imagists," Kunstwerk,
Vol. 15, November, 1961, p. 59.
Lawrence Campbell, "Parker Paints a Picture," Art News, Vol. 61, November, 1962, p. 40.
Gerald Nordland, "Show at the Dwan Gallery," Kunstwerk, Vol. 6, November, 1962, p. 67.
Thomas B. Hess, "Phony Crisis in American Art," Art News, Vol. 62, Summer, 1963, p. 59.
Max Kozloff, "Exhibition at Kootz," Arts Magazine, Vol. 39, January, 1965, p. 48.
"Neue Abstraktions" Kunstwerk, Vol. 18, April, 1965, p. 121.
L. Picard, "Interview mit Raymond Parker," Kunstwerk, Vol. 18/7, January, 1965.
Barbara Rose, "The Second Generation: Academy and Breakthrough," Artforum, Vol. 4,
September 1965, pp. 58-63.
Bruce Glaser, "The New Abstraction" Art International, Vol. 10, February, 196, p. 41.
Hilton Kramer, "Art: 2 Men's Dazzling Abstractions," The New York Times, January 31, 1970.
"Ray Parker, Fischbach Gallery," Artforum, April, 1970, p. 72.
L'Arte Moderna No. 111, Vol. XIII, pp. 28, 99, 118.
Hilton Kramer, Review, The New York Times, January 16, 1971.
Mary Fuller, "Was There a San Francisco School?"Artforum, January, 1971, pp. 46-53.
Alfred Frankenstein, "Praise Where it Is Due," San Francisco Chronicle, February 17, 1972.
Barbara Rose, Review, New York Magazine, Vol. 6, No. 11, March 12, 1973.
Benjamin Forgey, "Parker's Power," The Washington Star, November 4, 1979.
John Russell, Review, The New York Times, November 9, 1979.
"The Virtue of Solitary Action, de Kooning, Parker, Francis, McNeil" ART\WORLD,
October 20, 1979
Michael Findley, "Ray Parker," Arts Magazine, Vol. 55, No. 2, October, 1980, p. 3.
"Dialogue: Conversations with Ray Parker and Doug Ohlson," Arts Magazine, Vol. 56,
No. 8, April, 1982.
PUBLIC COLLECTIONS
Akron Art Institute, Akron, OH
Albany Institute of History and Art, Albany
Albright-Knox Art Gallery, Buffalo
The Aldrich Museum of Contemporary Art, Ridgefield, CT
American Academy of Arts and letters, New York
American University, Watkins Gallery, Washington, D.C.
Art Institute of Chicago, Chicago, IL
Bell Art Gallery, Brown University, Providence, RI
Childe Hassam Foundation, New York
Cleveland Museum of Art, Cleveland, OH
Dayton Art Institute, Dayton, OH
Des Moines Art Center, Des Moines, IA
The Fort Worth Art Museum, Fort Worth, TX
The Solomon R. Guggenheim Museum, New York
Los Angeles County Museum of Art, Los Angeles, CA
Massachusetts Institute of Technology, Hayden Gallery, Cambridge, MA
The Metropolitan Museum of Art, New York
Miami-Dade Junior College Art Gallery, Miami, FL
Milwaukee Art Center, Milwaukee, WI
Minneapolis Institute of Arts, Minneapolis, MN
Minnesota Historical Society, St. Paul, MN
Museum of Fine Arts, Houston
The Museum of Modern Art, New York
New Orleans Museum of Art, New Orleans, LA
Philadelphia Museum of Art, Philadelphia, PA
Princeton University, The Art Museum , Princeton, NJ
Portland Museum of Art, Portland, ME
Rice University, Rice Museum, Houston, TX
Rose Art Museum, Brandeis University, Waltham, MA
San Francisco Museum of Modern Art, San Francisco, CA
The Tate Gallery, London, England
University of Iowa Museum of Art, Iowa City, IA
University of New Mexico, University Art Museum, Albuquerque, NM
The University of Texas Art Museum, Austin, TX
Vassar College Art Gallery, Poughkeepsie
Wadsworth Athenaeum, Hartford, CT
Walker Art Center, Minneapolis, MN
The Whitney Museum of American Art, New York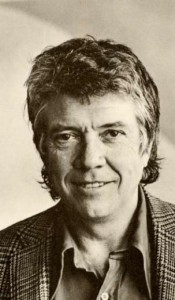 BIOGRAPHY
Originally from South Dakota, Ray Parker entered the University of Iowa in Iowa City in 1940; he earned his MFA in 1948. From 1948 to 1951 he taught painting at the University of Minnesota in Minneapolis. During the 1940s his paintings were heavily influenced by cubism. In the early 1950s, however, Parker became associated with the leading abstract expressionists of the day, including Mark Rothko and Willem de Kooning. Parker soon began to simplify and refine his works realizing that through abstraction, and color his paintings could convey and express emotion.
Like Piet Mondrian, Stuart Davis and Jackson Pollock, Parker was a fan of jazz music; and his interest in Jazz, combined with his interest in abstract expressionism, led to his improvised painting style. Parker was also a great admirer of the painter Henri Matisse and he looked to this artist's work for inspiration in terms of color and form, especially in his paintings of the 1970s and 1980s. By the late 1950s, he taught at Hunter College in New York City and he developed a singular style of painting that focused on intense color and simple geometric shapes. He was represented by the Samuel M. Kootz Gallery, one of the leading contemporary galleries in New York City during the late 1950s through the mid-1960s. At that time the Kootz Gallery represented important living artists such as Pablo Picasso, Pierre Soulages, Hans Hofmann, Zao Wou Ki as well as Ray Parker.
He is best known by his work of the late 1950s early 1960s called his Simple Paintings. These paintings are characterized by discreet cloudlike forms of clear, and intense color set against a white or an off-white background. Parker's paintings utilizing this method of stacked, clearly colored lozenges and floating forms are straightforward and basically geometric in shape.