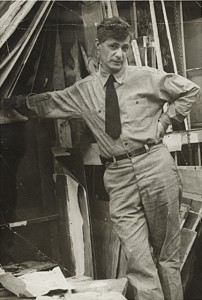 JAMES LECHAY
(1907-2001)
Education
University of Illinois, 1928
Awards
Benjamin Altman Prize, National Academy of Design
Norman Wait Harris Bronze Medal, Chicago Art Institute
Selected Solo Exhibitions
2013 James Lechay: Flower Paintings, 1960s through 1990s, Spanierman Gallery,
New York, NY
1997 James Lechay, Paintings, Provincetown Art Association and Museum,
Provincetown, MA
1985 James Lechay, Kraushaar Galleries, New York, NY
1972 James Lechay: Selected Work, University of Iowa, Iowa City, IA
1971 Luther College Centennial Union
1955 James Lechay, January 24th through February 19th, Kraushaar Galleries,
New York, NY
1946 New York in Watercolor by James Lechay, Macbeth Gallery, New York, NY
1936 James Lechay: Exhibition of Paintings, Another Place, New York, NY
Selected Group Exhibitions
2014 Still Life Invitational 2014, ACME Fine Art, Boston, MA
2013 Eye on UI Faculty: Byron Burford, Stuart Edie, and James Lechay,
FIGGE Art Museum, Davenport, IA
2012 Summer Selections, Spanierman Gallery, New York, NY
Selected Collections
Art Institute of Chicago, Chicago, IL
Joslyn Art Museum, Omaha, NE
Metropolitan Museum of Art, New York, NY
Des Moines Art Center, Des Moines, IA
Ferargil Galleries, New York, NY MacBeth Gallery, New York, NY
Provincetown Art Association and Museum, Provincetown, MA
Addison Gallery of American Art, Andover, MA
National Academy of Design Museum, New York, NY
National Museum of American Art-Smithsonian, Washington, DC
New Britain Museum of American Art, New Britain, CT
Pennsylvania Academy of the Fine Arts, Philadelphia, PA
Sheldon Museum of Art, Lincoln, NE
Brooklyn Museum of Art, Brooklyn, NY
University of Arizona Museum of Art, Tucson, AZ
University of Iowa Museum of Art, Iowa City, IA
University of Wyoming Art Museum, Laramie, WY
Wichita Art Museum, Wichita, KS
FIGGE Art Museum, Davenport, IA
Biography
James Lechay was born in New York, NY on July 5, 1907 to Russian immigrant parents.
He received a degree in psychology from the University of Illinois in 1928 and returned to
New York to study art privately with his elder brother, artist Myron Lechay, but otherwise was a self-taught artist. Lechay taught painting and drawing at the University of Iowa starting in 1945 until his retirement in 1971. He also taught workshops at various other institutions such as Stanford, New York University, and the Skowhegan School of Painting and Sculpture. During the course of his career he received countless medals, awards, and honors for his work. Lechay exhibited with the likes of Mark Rothko, Willem de Kooning, Jules Olitski, Nathan Oliveira, Helen Frankenthaler, and Alice Neel to name only a few. He lived out his retirement in Wellfleet, MA until his death on August 11, 2001 at the age of 94.