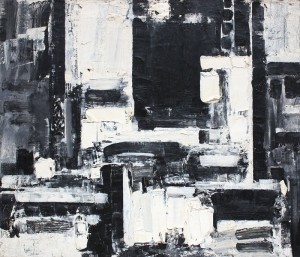 29 January—12 March 2016
Opening Reception: Friday, 5 February from 5:00 to 8:00 pm.
 An exhibition of newly discovered early oil paintings by noted mid-century modern artist Haynes Ownby will open at ACME Fine Art on Friday, 29 January 2016. The six paintings that comprise the exhibition date from 1954 and 1955. They were made towards the end of Ownby's affiliation with the Hans Hofmann School of Art. They are bold, spontaneous expressions in the newly found visual voice of this little known, but highly regarded, New York School artist.
While still a student at Southern Methodist University in Texas, Ownby found the work of Piet Mondrian and Pablo Picasso to be his most important artistic influences. However, the first-hand instruction of Hans Hofmann, and mentoring by his good friend and fellow Texan Myron Stout in the 1950s must also be acknowledged as touchstones in all of his work. With one exception—a canvas that is a classic example of Hans Hofmann's limited palette study—the paintings that make up this exhibition are entirely in black and white. This high contrast idiom served Ownby well, and for him it became a hallmark, much as it did for Stout.
Ownby's artwork is represented in the permanent collections of the Dallas Museum of Art, the El Paso Museum of Art, the Cape Cod Museum of Art, and the Provincetown Art Association and Museum. It has also been included in exhibitions at the Pennsylvania Academy of Fine Art, the Contemporary Arts Museum in Houston, and at the City Gallery of Copenhagen. Ownby received grants from the Florsheim Art Fund in 1996 and 1999, and from the Pollock/Krasner Foundation in 2000.
ACME Fine Art's exhibition HAYNES OWNBY: Paintings from 1954 & 1955 will be on view from 29 January to 12 March 2016. An Opening Reception will be held in conjunction with First Fridays on Friday, 5 February from 5:00 to 8:00 p.m. The entire exhibition will also be viewable on line at www.acmefineart.com. For more information about the exhibition or the artist please contact the gallery.