PANOS GHIKAS: EQUILIBRIUM
at ACME FINE ART
Press Release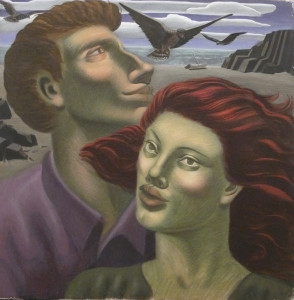 An exhibition of six important works of art by renowned Boston artist Panos Ghikas (1924-2012) will open at ACME Fine Art on Friday 21 March and will be on view through Saturday, 26 April 2014. This exhibition will be located in ACME's Front Gallery, and will run concurrently with the Artists of the James Gallery exhibition. A reception in conjunction with both exhibitions will be held on Friday 4 April from 5:00 to 9:00 p.m.
Panos Ghikas was an artist trained in the classical tradition, and he became a master of technique in a variety of media. He earned his M.F.A. from Yale, and from there went on to study with Willi Baumeister at the Staatliche Academie de Budenden Kunst in Stuttgart. Almost as soon as his studies were completed he became an educator, and over the course of his career he taught at Phillips Academy, Washington University, Brown University, Harvard University, the Massachusetts College of Art, and at the School of the Museum of Fine Arts in Boston. Ghikas was honored with a Yale Norfolk Fellowship, a MacDowell Fellowship, and a Fulbright Fellowship early in his career, and he went on to have his artwork exhibited at Museums and Galleries across the country including: the Art Institute of Chicago, the Wadsworth Atheneum, the Whitney Museum of American Art, the Addison Gallery of American Art, and Boston's Institute of Contemporary Art, among others.
For this exhibition Gallery Director David Cowan selected works –primarily in the artist's favorite medium: egg tempera- that span Ghikas' career and that demonstrate the arc of his development as a painter, while highlighting the formal continuity and consistency of the artist's aesthetic. His range is impressive considering his transition from the high style Surrealism of his Yale days, to the Cubism that immediately followed the War, to the elegant and refined geometries of his later work.
For further information about Panos Ghikas or about the exhibition please contact the gallery at 617.585.9551 or info@acmefineart.com. The entire exhibition will be viewable on line at www.acmefineart.com.